WELCOME TO DIGIBC
DigiBC: The Industry Association for Digital Media & Wireless Companies in BC
DigiBC is a not-for-profit, 100% membership and sponsorship-funded organization. We represent our province's digital industries such as Mobile & Wireless, Video Games, Animation & Special Effects, Social Media, Online Marketing and Startup sectors. Traditional companies and organizations are also DigiBC members, learning and networking to expand their digital knowledge and business initiatives.
As an association, we work together to make our digital industries stronger and more influential through education, networking and public policy. Our industry is only as strong as our representation. The stronger the representation is, the more influence and voice we will have.
Membership is affordable and offers special benefits for both individuals and companies. Get access to our network, attend exclusive events, receive discounts and more by joining DigiBC. Help make BC the most recognized center for digital media and wireless excellence in the world!
Upcoming Events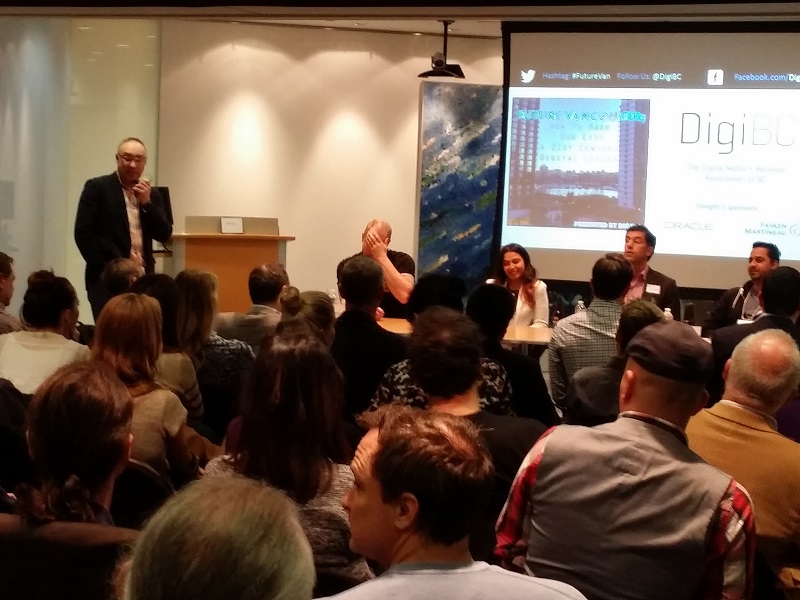 UPCOMING SUMMER 2015 EVENTS
3 great events now have tickets on sale!
BC's Internet of Things: JULY 13  -  BUY TICKETS NOW
Video Game Industry Town Hall: JULY 6  -   GET A TICKET
"Zero to the Zone" Digital Marketing Workshops
DigiBC Annual Summer BBQ (TBA)
We're here to keep your summer digitally fun!
DigiBC Thanks Our NextBC 2015 Platinum Sponsor:

Microsoft Vancouver has become an important BC technology employer in several innovative ways.
Since opening its doors in September 2007, the Vancouver Development Centre (VDC) has quickly become an intricate part of Microsoft's global strategy for distributed software development. Collectively, VDC employees work on more than 50% of all the products and services offered by Microsoft.
Black Tusk Studios and BigPark are both important facets in Microsoft's video game strategy, with the former studio now developing the next chapter in the highly popular Gears of War gaming franchise.
Also integral to its' Vancouver hub is content creation for the company's MSN portal, as well as development on future innovative forms of technology. In Fall 2015 the company's gaming divisions will move into a new state-of-the-art facility in the heart of downtown Vancouver. The expansion will add 400 new jobs and provide a $90 million dollar boost to the city's economy.
Health, Dental, Life Plans from BenefitDeck
DigiBC is pleased to partner with BenefitDeck and offer our members a competitive health benefits plan. BenefitDeck is a benefits consulting company familiar with the needs of the digital media industry. With a mission 
to improve overall workplace wellness, cost is further reduced 
through a healthier, more engaged and productive team. BenefitDeck has helped a number of our members achieve maximum savings through this association plan arrangement
. 
BenefitDeck-DigiBC
10% Discount on Payroll & HR Services from PaySavvy
PaySavvy
is offering DigiBC members 10% off PaySavvy services. Payroll doesn't have to be frustrating. And with PaySavvy, it isn't. They'll help you minimize the time and effort you have to put into payroll, while maximizing your access to information and tools that put you in greater control of your business.
See here
About DigiBC
DigiBC's mission is to promote, support and accelerate the growth, sustainability and competitiveness of BC's digital media and wireless industry.